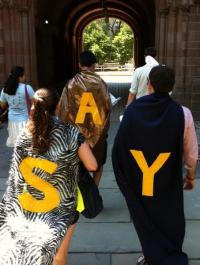 The Frosh Counselors, or FroCos, all of them Saybrook seniors, play a special role in the college. Together with the dean, they counsel and advise first-year students, living with them on the Old Campus and providing them with academic and personal counseling during the first year. In addition to bringing an important peer perspective to their roles, the FroCos receive special training in helping students adapt to college life.
Saybrook 2017-2018 FroCos

 

Kellen Bean

Kellen is a Molecular, Cellular and Developmental Biology major from Wailuku, Hawai'i. He grew up with constant sunshine and pristine beaches - so feel free to complain about winter with him. Outside the classroom, he spends most of his time conducting research at the medical school. That being said, you can always catch him at intramural games, College Council meetings, and literally any Saybrook event. Kellen is looking forward to meeting the Saybrook Class of 2021 - members of *objectively* the best college at Yale!

Jun Yan Chua

Jun 'Yan' Chua is a history major from Singapore. In an earlier and less glamorous life, he was an editor at the Yale Daily News, where he was responsible for the opinion page (but not the facts). He has also served as a research assistant and enjoys all things library- and archive-related (in fact, he dressed up as the Beinecke Rare Books and Manuscripts Library last Halloween). A fan of big cities, he has spent parts of his summer in New York and London. Yan's favorite memories of Saybrook are the barn dance in his first year, and the annual Harvard-Yale game. Today, Yan's primary extracurricular is lying on Cross Campus on a sunny day. He looks forward to welcoming the Class of 2021!

Mary Chandler Gwin

Mary Chandler Gwin is a Molecular Biophysics & Biochemistry major from Chattanooga, TN. As a proud Tennessean, she spent her first year scoping out the best places within walking distance to get sweet tea and is happy to share her findings (she also has a ranking of the milkshakes in the area). Outside of classes Mary Chandler does research at the medical school and is a member of two dance companies - A Different Drum and Yale Dance Theater. If you ever need to find her, she is always in the SY dining hall at 5pm sharp. Mary Chandler is super excited to meet the newest class of Saybrugians and is already working on her pancake flipping skills for next year, so be sure to stop by for some late night pancakes!

 

Leah Meyer

Leah Meyer comes to New Haven from just outside Boston, Massachusetts. She's a Music major, spending afternoons rehearsing with the Yale Symphony Orchestra, and plans to go to medical school a few years post-graduation. The music in her daily life is the sound of dewy morning walks to Saybrook breakfast and the bubble of a freshly baked mac n' cheese casserole (she doesn't actually eat mac n' cheese everyday, but you get the idea). She loves hiking, coffee-based ice cream, hanging out with other people's dogs until she gets her own, and going to fellow FroCo Mary Chandler's dance performances. Leah is a Saybrook Aide, often working in the Saybrook Head of College Office (where we have candy) so come and stop by!

Mallet Njonkem

Mallet is an Economics and Mechanical Engineering major from Houston, Texas. Some of his adventures as a Yale student include spending a summer abroad in Peru, volunteering abroad in Brazil with the Yale Alumni Service Corps, and building an igloo with his 12-pack cohort. An avid dancer, Mallet has performed with Shaka-Yale's Polynesian dance group-as well as Dzana-Yale's Afrobeats dance group. He is in love with Saybrook and is looking forward to welcoming the class of 2021!

Caroline Schlutius

Caroline Schlutius is an Ecology & Evolutionary Biology major from the bustling metropolis of Sebastopol, California. Childhood road trips across the country's National Parks instilled an early love of the outdoors and ultimately led to her love of botany. As a Yale student, she has travelled around New England and to Mexico conducting botanical research, and she recently spent a semester abroad in South Africa studying conservation and ecology. Some of her favorite activities outside the classroom include working at the Squiche, Saybrook's finest late-night dining establishment, and teaching swim lessons at Payne Whitney Gym. She can't wait to welcome the newest Saybrugians into the family!

Amber Tang

Amber Tang is a Molecular, Cellular, and Developmental Biology major and Global Health Scholar originally from Portland, Oregon. Apart from class, she can typically be found in the dining hall avoiding her homework or at the Center for Infectious Disease Modeling and Analysis where she does research. Amber also enjoys hiking, watching movies, and ordering pizza from Papa John's. She is spending the summer in China conducting field work, but she can't wait to get back on campus and meet everyone in Saybrook's incoming class!