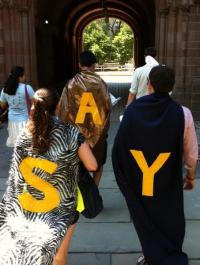 The freshman counselors, all of them Saybrook seniors, play a special role in the college. Together with the dean, they counsel and advise first-year students, living with them on the Old Campus and providing them with academic and personal counseling during the freshman year. In addition to bringing an important peer perspective to their roles, the freshman counselors receive special training in helping students adapt to college life.
Saybrook 2016-2017 Fro Cos!
Alondra Arguello

Alondra Arguello is an Ecology and Evolutionary Biology major, and was born and raised in New Haven, CT. She worked as a high school instructor for the science program, Evolutions, enjoys helping high school students prepare for college, and is a part of the Yale Latin dance team: Sabrosura. Alondra loves to travel and enjoys learning about other people and cultures. During the year, you may find her going for a jog on the Payne Whitney gym track, hanging out with dogs, or eating Ben & Jerry's chocolate fudge brownie ice cream! She is super excited to meet the Saybrook class of 2020!

Max Bryski

Max Bryski, known to Dean Muller as "Max named Mitchell," is a History major from Washington, DC who plans to attend medical school post-grad. Outside the classroom, Max is a singer in the Yale Glee Club and an avid intramural athlete. He enjoys hiking (do FOOT!), back pack travel everywhere from Kigali to Paris to the North Woods of Wisconsin, archeology and Packers football! Two of his favorite memories from freshman year are the night he and his seven suite mates, who remain good friends today, created a midnight Suite Constitution and Code of Conduct for Communal Living (more like "guidelines") and the Glee Club's trip to Cuba. Max is fired up to get to know the Saybrook Class of 2020 and welcome them to the best college at Yale! (PS: He also loves his dog Taffy, pictured at right)

 

Jamie Cooper

Jamie Cooper hails proudly from the smallest and mightiest of states, Rhode Island. Some of her adventures as a Yale student include late-night karaoke in her freshman year suite, studying abroad twice (in Argentina and Peru), deciding to major in History with a concentration in Race, Gender, and Sexuality, interning at New Haven Farms, learning how to cook during the one semester she lived off campus, singing for three years in the Yale Gospel Choir, and eating a lot of ice cream. Besides her interest in history, she is also passionate about environmental and food justice. She's excited to spend next year making bread, doing puzzles, watching Modern Family, and eating ice cream with the class of 2020!

 

Thomas Forster

Thomas Forster hails from Lexington, Virginia, home of two colleges, four one-way streets, and one small movie theater. At Yale, he is a European History major, focusing on religious history of the Late Middle Ages — yes, he agrees that this is weirdly niche. After Yale, he … remains undecided so best not to ask. Outside of the classroom, he performs with the Yale Alley Cats a cappella group, served as a Communication and Consent Educator (CCE), and spends fall weekends avoiding homework to watch Arkansas Razorbacks' and Dallas Cowboys' football games. If not in the Saybrook Dining Hall, you can find him at Pad Thai on Chapel or Arethusa Dairy (*hint* … his favorite flavor is almond coconut … *hint*). He can't wait to be back on campus and is excited to meet the Saybrook Class of 2020!

Perry Holmes

Perry Holmes is an English major and a proud Saybrugian hailing from Athol, Massachusetts (if you've been to Athol I will buy you an ice cream cone on the first day, no joke). He grew up on a place called The Farm School, where elementary and middle school groups come on field trips to learn about farming. He's a FOOT leader and Yale Farm Manager, but outside of class you can also find him on the benches of Saybrook IM games or buying Gheav sandwiches. He's only had one nice photo taken of him since he was a child, so you might notice that the image here is the same as his Facebook profile picture. Perry is allergic to wasps and potentially lactose, but he's not sure so he still eats ice cream. He can't wait to meet the incoming class!

Sam Levatich

Sam Levatich has spent most of his life working his way through every video game Nintendo has produced, and now he is a computer science major so maybe he will return that favor someday. He was born in the general area of Milwaukee, Wisconsin where there are not as many cows as you might expect. Outside of coursework, Sam performs with The Yale Exit Players improv group, teaches introductory programming for CS50, and might even be your froco! Sam is very excited to meet all of you Saybrook 2020 folks: don't be strangers!

Stephanie Leyva

Stephanie Leyva is a proud southern California native majoring in chemistry with an emphasis in chemical biology. Outside the classroom, she spends most of her time conducting research at medical school, working in the library Stacks, and dancing with Ballet Folklorico de Yale. She enjoys baking, being outdoors, playing sports, and spending time with her family and friends. Stephanie is very excited to welcome the class of 2020 to Yale!! 

Magda Zielonka

Magda Zielonka is a Biomedical Engineering major from Brooklyn, NY. She's an avid intramural player, a member of the Yale Women's Club Soccer Team, a FOOT leader (do FOOT!), and a proud Saybrugian, and she is so grateful for all the awesome people she's met at Yale through these and other outlets. Magda identifies strongly with her Polish heritage and looks back fondly on her childhood summers spent with her grandparents in the Polish countryside. She also loves avocados and the Hamilton soundtrack and is looking forward to a banging year with the newest class of Saybrugians!