These rooms are for the enjoyment of all, so please note that smoking is prohibited in all rooms and outdoor spaces in Saybrook. 
To reserve a Saybrook Room, please fill out this form (no room reservations during reading period and finals week). Your reservation is not confirmed until you receive an email back from a Saybrook College Office staffperson confirming the reservation location and space!
Athenaeum Room
The Athenaeum Room, just inside the High Street Gate, is available for meetings sponsored by Saybrook students. Use of this room requires a reservation through the Head of College's Office. Events held in this space must follow the rules posted inside.
Common Room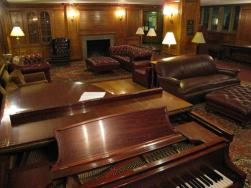 The Henning Common Room is on the first floor of Entryway H (immediately outside the Dining Hall). A peaceful place to relax and unwind, the Henning Common Room features a Steinway grand piano and is always open to Saybrook Students. It cannot be reserved.
Computer Cluster
The Computer Cluster is located in the basement between Entryways N and  M. The room contains computers (both a Macs and PC), a laser printer/copier, and a flat screen TV with HDMI hookup that is free and available for student use, whether practicing a presentation or working in study groups.
Fellows' Dining Room
Fellows use the Fellows' Dining Room at the back of the Dining Hall for official functions, dinners, and small meetings. This room is also available to student groups for dinner or lunch discussions or other special small functions.  Capacity is roughly 25 individuals.
Saybrook Gyms
Saybrook College has two gyms.  The primary gym is located in the basement between Entryways O and G.  The gym annex, which contains leg machines and a recumbent bike, is in the basement across the hall from the computer cluster near Entryway N.  Student swipe access to these gyms is approved through the Saybrook College Office.
Game Room
The Game Room is in the basement of Entryway H.  It is Saybrook's student lounge and features comfy furniture, a flat-screen TV, wireless speakers, a gaming table, a Saybrook logo felt pool table, a high quality ping-pong table, and several other seating options.   While the Game Room is a terrific informal gathering space; it is not to be used for group meetings which would limit access to other students.
Laundromat
The Laundromat is in the basement of Entryway L. It contains washing and drying machines that can be operated by putting money on your ID card. There is also an ice machine for student use located in the Laundromat.
Library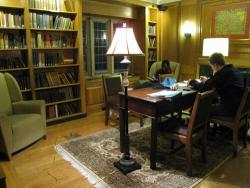 The Library is located above the Henning Common Room, accessible through Entryways G, H, and I. It is geographically and, one hopes, intellectually at the heart of the College. It is open to Saybrugians twenty-four hours a day, seven days a week.
Lyceum Room
The Lyceum Room, just inside the York St. Gate is reserved for residential college seminars sponsored by Saybrook, small group meetings, class sessions, or private events.
Saybrook/Branford Room
The Saybrook/Branford Room is a conference room shared by Saybrook and Branford College, available for student-sponsored meetings. It is in the footprint of Saybrook College, in Entryway A. Use of this room requires a reservation through the Head of College's Office.
Music Studio/Practice Rooms
The Saybrook Music Studio is made up of 3 separate rooms.  Studio B has an upright Yamaha piano, a drum kit, and is connected to a recording studio room capable of making high-quality, professional-style recordings.  Studio C contains a baby grand piano and ample space for extra chairs and instruments for multiple individuals.  The studio is located in the basement between Entryways J and K. Your ID card may be activated to grant access to this room through the Head of College's Office.
The Squiche (Buttery)
The Squiche is a student-run snack bar and  is located in the basement of Entryway I. It is open from 9:00pm-12:00am,  Sunday through Thursday and offers sandwiches, quesadillas, milkshakes, smoothies and  soda, and two Saybrook specials: the Manwich– a deliciously greasy fried chicken sandwich,  and the new Lustwich– a desert item with Fluff, nutella and banana.
Student Kitchen
The Student Kitchen is located in the basement of Entryway K. The kitchen contains most of the appliances and utensils needed for simple cooking. Your ID card may be activated to grant access to this room through the Head of College's Office. The full Saybrook Student Kitchen access policy which explains responsibilities of all kitchen users, forms for use, and the kitchen manager can be found on the Saybrook Student Kitchen page.
TV Room
The Saybrook TV Room is located under Entryway F. With a large-screen TV, Yale's Xfinity IPTV service, and surround sound, it is available for regular Saybrook student use, as well as the site of Saybrook-sponsored viewing events like Superbowl parties.  Please see the Saybrook TV Room page for reservations and policies.
Underbrook Theater
The Underbrook, a multi-purpose theater and film space in the basement of Entryway H, is available for a variety of events, from theater productions to film screenings to guest speakers. It features a lighting grid, an HD projector and screen, video streaming hardware for livestream capabilities, and seating for about seventy five occupants. Please carefully read the guidelines for use of the Underbrook found here.  Reservations are subject to change, as Yale College CPA award recipients with major productions may be added to our calendar.