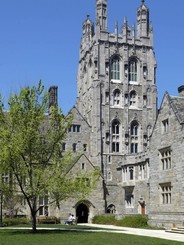 The two courtyards—Saybrook (west, along York Street) and Killingworth (east, along High Street)—were named after the Connecticut towns where undergraduates were taught before the removal of the Collegiate School (later Yale College) to New Haven. Embedded among the flagstones in each of the courts is an old millstone. The millstones came from the towns for which the courts were named. The stones were brought to New Haven by oxen in 1921. Wrexham Tower, which rises over Wrexham Court, was modeled after the tower of St. Giles Court in Wrexham, Wales, where Elihu Yale is buried. An inscribed stone, sent from the old Welsh church as a gift to Yale, is set in the tower's base.
The longer one lives in the college, the more one becomes aware of the variety of carvings and sculpture which ornament the building. In the gateway leading to Hadley Entryway O, for example, are carved the heads of Vance McCormick, the chairman of the Corporation's committee on architectural planning when the Quadrangle was built, and Russell Chittenden, Director of the Sheffield Scientific School from 1898 until 1922. In the small close at the base of Wrexham Tower there is a plaque honoring James Gamble Rogers, the architect of the Quadrangle. If one looks hard enough, one can find the heads of Anson Phelps Stokes, former Secretary of the University, and of Otto Eidlitz, the Master Builder of Harkness. Embedded in the wall of the Head of College's House, facing out onto Killingworth Court, is a facsimile of the tombstone of Abraham Pierson, the first Rector of the Collegiate School.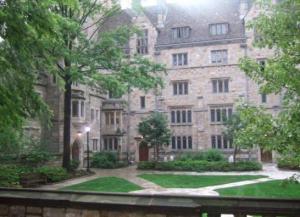 The two courtyards are rich in armorial decorations. Along the west wall of Saybrook Court are carved the arms of several American universities, and high on the north wall are displayed, in color, the arms of Elihu Yale, next to those of Mr. Harkness. Similarly located and emblazoned in Killingworth Court are the arms of Emmanuel College, Cambridge, and Adams House, Harvard, with whom Saybrook shares ententes cordiales. Over the gateway on the south wall are the arms of Yale and Harvard. Above the gates on Elm Street are emblazoned the college arms and the grapevine device of Saybrook Colony, a generous gift of Malcolm P. Aldrich, '22. In Saybrook, as in our Harkness neighbor, Branford, each entryway is named for a Yale figure deemed distinguished in 1917, among them several forgotten poets and failed politicians.
A huge elm, approximately 150 years old, towered over the Saybrook Courtyard until 1977, when it succumbed to Dutch Elm disease. Killingworth Court retained its elm until Hurricane Gloria brought it down in 1985. Lilacs, viburnums, wisteria, rhododendrons, pink catalpas, redbuds, and blueberries enliven the borders of both courtyards with color in May and June. In 2006 the the Kan'ichi Asakawa Garden was designed and built to provide a space for students to "sit quietly and enjoy the harmonic balance between Yale's architectural symmetry and the Japanese garden's asymmetry."