The College Arms are heraldically described as follows:
Quarterly I and IV azure, three lions rampant, or; II and III sable, an engrailed cross within a border engrailed both or, and five roundels sable on the cross. Quarters I and IV are for Fiennes, the family of Lord Saye and Sele; II and III represent Greville, the family of Lord Brooke.
William Fiennes (1582-1662), First Viscount Saye and Sele, backed the Parliament during the English Civil Wars and earned the nickname of "Old Subtlety" for his devious political maneuvering. Robert Greville (1608-1643), Second Baron Brooke was also a member of the Puritan faction. The author of a philosophic treatise on the nature of truth, he was killed in 1643 by a stray bullet while leading the parliamentary forces at the siege of Litchfield. Lord Saye and Sele and Lord Brooke were the chief promoters of the Puritan company that founded the town of Old Saybrook at the mouth of the Connecticut River. In 1701, Saybrook became the site of the Collegiate School, which was removed to New Haven seventeen years later to form the nucleus of Yale College. Saybrook students commemorate the two peers' roles as "step-founders" of the College with a Lord Saye and Sele Birthday Celebration, held each year on a weekend in late spring.
The College Arms are carved in stone over the main gate and can also be seen to advantage on the Saybrook flag which is carried by the Banner Bearer in the Commencement procession and waved enthusiastically at football games and other events.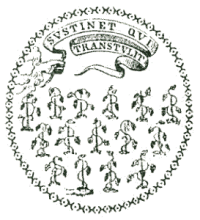 The badge of the College is the grapevine, derived from the original seal of Saybrook Colony. This can be seen in many places throughout the College. It is carved in stone over the High Street Gate and in wood over Mrs. Harkness' portrait in the Dining Hall, and it forms the head of the verge—a staff of silver, wood, and ivory which stands in the Head of College's Office and is carried before the Head of College on ceremonial occasions.
The grapevine motif also figures prominently on the Saybrook Arras, which adorns the very back wall of the Dining Hall. William Douglas '18, Associate Fellow, designed this magnificent piece of needlework; Miss Louisa Bellinger, curator of the Textile Museum in Washington, DC, executed and presented it to the College. Shields of the patentees of the Saybrook Colony are scattered over the field, and the border is made up of the names of Saybrook's first Master and the first twenty-three Fellows and Associate Fellows. Stitched into each name are objects characteristic to the man in question; for example, under "Gee" is a paddle tennis bat, for the late John Archer Gee, a notable player of that game.