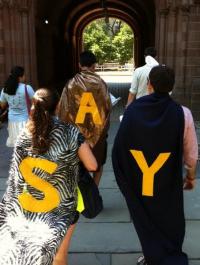 The First Year Counselors, or FroCos, all of them Saybrook seniors, play a special role in the college. Together with the Dean, they counsel and advise first-year students, living with them on the Old Campus and providing them with academic and personal counseling during the first year. In addition to bringing an important peer perspective to their roles, the FroCos receive special training in helping students adapt to college life.
Saybrook 2019-2020 FroCos

 

Jake Gluckman

Jake is the 20-21 Saybrook Head FroCo.  Jake is an American Studies major from Short Hills, NJ.  Last year, Jake took time off to sing and travel with the Yale Whiffenpoofs, the oldest a capella group in the country.  Jake also sang with the Spizzwinks(?), one of Yale's underclassmen a capella groups, during his first three years at Yale.  Jake is also heavily involved in the theater community; during his junior year, he wrote and produced his first original musical, entitled My World, which was based on his brother's experience with autism.  Outside of singing, Jake loves inserting Spongebob references into almost every conversation and attempting the daily NYTimes Crossword puzzle.

Rebecca Amonor

Rebecca, originally in Timothy Dwight college, is from Columbus, Ohio, and her family is from Ghana. She is double majoring in English and African American Studies. Rebecca is a Mellon Mays Undergraduate Fellow and her research interests include the African Diaspora, Identity and Belonging. In previous years, Rebecca has served as the lead coordinator of the Black Church at Yale, TD's intramural volleyball captain, co-coordinator of Yale Community Kitchen, History Keeper at the Afro-American Cultural Center and YUNA! Rebecca enjoys laughing (all the time), exploring new places, eating good vegan foods (favorites include pad thai, falafel, and samosas) watching movies, meeting new people and listening to inspirational/motivational music and messages. If you see her around, don't hesitate to say hi! :)

Sofia Caro

Sofia is a proud Saybrugian from Fort Lauderdale, FL but currently living in Lexington, MA. She is majoring in Cognitive Science, with a concentration in Human-Environmental Interactions. She was a part of the varsity women's lacrosse team until she was a sophomore. Currently, Sofia is an alto for the Unorthojocks, the all-athlete acapella group, works as an intramural (IM) football and basketball referee, is a proud member of the Slaydies IM basketball team, and does research in the Crockett Lab, which specializes in human morality research. You'll most frequently find her working out, studying in coffee shops around New Haven, watching Netflix or spending time with her friends. She wants nothing more than for Saybrook to continue their Tyng Cup dominance and make it a 4-peat. SAYWHAT?!

Grace Kang

Grace is a Statistics and Data Science major from Las Vegas, NV. She is the Vice President of the Yale College Council, a violinist in the Davenport Pops Orchestra, and was a Data Science Research Assistant for Yale's Institution for Social and Policy Studies. She also served as the President of the Yale Living History Project (a group that records non-medical biographies on Yale New Haven Hospital patients) and as the Advocacy Coordinator for Dwight Hall. In the past, she interned at Louisville Gas & Electric under the Bulldogs in the Bluegrass program, and this summer, she interned at Goldman Sachs. She likes to play golf, scroll through instagram to look at aesthetic pictures of food, and watch The Office. 

Brandon Lopez

Brandon is from Los Angeles, California, and is majoring in Psychology and completing the pre-med requirements. They are a research assistant in the CANDLab, and their research interests include preventative factors for psychiatric disorders and the role of caregivers in the development and treatment of anxiety. In previous years, Brandon has worked at the Yale Child Study Center, La Casa Cultural: The Latino Cultural Center at Yale, and summer camps. They enjoy reading fantasy novels, walking through art galleries and museums, going on long runs, cooking for their friends, and gardening! 

Saul Roselaar

Saul is from Appleton, Wisconsin, and majoring in Ethics Politics, and Economics. On campus, he sings with Magevet, and serves as the co-president of Every Vote Counts. During school vacations, Saul spends most of his time bowed over an oxy-propane torch crafting glass baubles and trinkets.