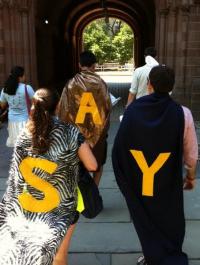 The First Year Counselors, or FroCos, all of them Saybrook seniors, play a special role in the college. Together with the Dean, they counsel and advise first-year students, living near them on campus and providing them with academic and personal counseling during the first year. In addition to bringing an important peer perspective to their roles, the FroCos receive special training in helping students adapt to college life.
Saybrook 2022-2023 FroCos
Head FroCo - Lilley Harris (she/her)
Lilley is the proudest Saybrugian to ever exist and is from Southport, Maine. She will definitely make sure to tell you that Southport is an island, so it seems silly to not include that here, too. She majors in History of Science, Medicine, and Public Health and has somehow managed to write a significant portion of her college essays about TikTok. On campus, Lilley is an aide in the Saybrook Head of College Office, and she will pressure all of her first years to apply. In addition to the SY Office, she also works in the Squiche on occasion. She is a founding member of  fSTS, a feminist science and technology studies collective on campus. In the past, Lilley worked in the Addy Lab  and studied preclinical nicotine addiction (ask her about pre-med – she failed so you don't have to). She currently works as a student archivist in the Medical Historical Library and as a research assistant for one of her professors. One of her favorite pastimes is applying to jobs, and she has never not held at least two jobs during her time at Yale. Other hobbies include coffee (making and drinking), hosting elaborate themed gatherings with her friends, and Sayflame (iykyk). To prepare for being a FroCo, Lilley spent time with her five younger siblings to learn how to parent and resolve interpersonal conflicts. You can always find Lilley somewhere in Saybrook (seriously, she never leaves).  Her sister is annoying.
Matt Albritton (he/him)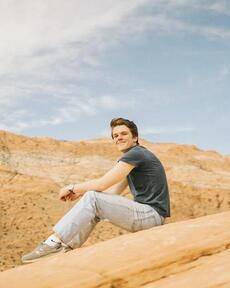 Matt was originally class of 2022, but made an ~educated~ decision that spending a year skiing and living in a van in Wyoming suited his fancy much more than Zoom University™. Now back and more studious than ever, Matt's working towards a Double Major in Mechanical Engineering and Computer Science. Although hailing from Fort Worth, TX, his heart and sports team allegiance lie in Boston. (Celtics are in the ECF as he writes this!). An avid outdoors person, he has spent summers working on top of mountains and many nights below the stars. With way more Saybrook Intramural pride than any sane person should have, you'll find Matt at any IM game. As president of the Yale Club Basketball team, Matt is always down for some shoot around or pickup in Payne Whitney Gym. A tinkerer to the bone, Matt spends way too much time at the CEID (Center for Engineering Innovation and Design), both as a design aide and working on whatever random project pops up next. Matt can be found in the Saybrary, lying in the Branford courtyard, or scarfing down tendies on chicken-tender Thursdays.
Judith Chang (she/her)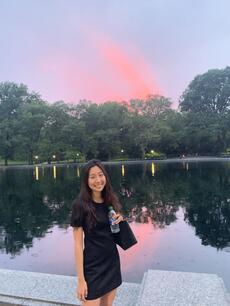 Judith was born in Seoul, South Korea and grew up around Atlanta, Georgia. She is a Cognitive Science major also pursuing a certificate in Statistics & Data Science. She has considered so many different majors and clubs and summer experiences during her time at Yale– if you are not sure what you want to do and are open to exploring all that you can, Judith can relate. At Yale, she has been involved in her sorority, does yoga with Yale CHAARG, was on a fellowship through TAMID, plays on the club volleyball team, was a director for YMGE, spent a summer doing biology research when she thought she was pre-med, and is a member of Smart Women Securities and Saybrook's Housing Committee. Again, Judith just wants to try everything. She is all about community and one fun fact (which she needs to verify so that she is not lying on the internet) is that Judith was part of the first all-female 12-Pack in Saybrook. Say-What? Another fun and verifiable fact is that, as your FROCO, she will be one of your biggest fans on campus. 
Antonio Cilibrizzi (he/him)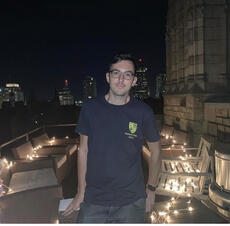 Born and raised in Anzi, a small village of Southern Italy, Antonio underestimated city night noise when he moved to New Haven, Connecticut. A lover of languages, he was already planning to major in German before college, but decided to add Classics–a painful, yet fulfilling decision he never once regretted–after taking Directed Studies and, thus, being reminded of the charms of the ancient Mediterranean. He plans on continuing his study of antiquity in graduate school, where he wishes to specialize in ancient Graeco-Roman rhetorics and politics as well as classical reception(s) such as German Philhellenism and the Italian Renaissance. At Yale, he works for the Center for Language Study as an Italian, French, and German undergrad tutor, volunteers for the Yale Interpretation Network, and acts as president of the Italian Undergraduate Society (IUSY). His hobbies are disparate, ranging from yoga to nighttime Netflix watch parties, from stress cleaning to trying new cakes at Claire's Corner Copia. Fun fact: he hates garlic and onions despite their ubiquity in Italian cuisine. You can find him tutoring at Blue State on York, desperately translating stuff in the Classics Library above Phelps Gate or hastily working out before going to bed in the Saybrook gym (not to be emulated!). He is beyond excited to start working as a FroCo and absorbing the enthusiasm of his counselees!
Hailey Dykstra (she/her)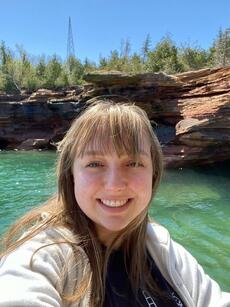 Hailey is a Linguistics student from the beautiful Northwoods of Wisconsin (more specifically, Park Falls, Wisconsin, but even 'Sconnies don't typically know this small town). At home she spends her time kayaking the Flambeau River or Luebke Lake, attending her cousins' many sporting events, and avoiding any time outside when the temperature is above 80 degrees (unless, of course, there's swimming and popsicles involved). At Yale, she spends her time working in the Blackfoot Lab transcribing audio recordings and doing data entry or attending the various Yale Precision Marching Band (YPMB) rehearsals and events. In the past she has been involved with SAYstainability, Green at Yale, and the Jones-Zimmerman Academic Mentoring Program. As a Linguistics major, Hailey is a lover of languages, and has taken both German and ASL at Yale, along with playing around with Spanish and Dutch on Duolingo. She also enjoys playing Stardew Valley and the Sims 4, baking (but not cooking), drawing, and rooting for the Las Vegas Golden Knights. You'll find Hailey in various parts of Dow Hall, the Starr Reading Room, or in the Saybrook Dining Hall eating lunch.
Sam Eshun Danquah (he/him)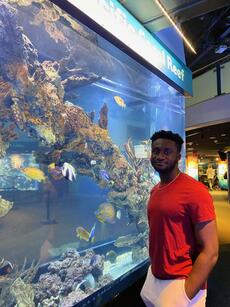 Although raised in Raleigh, North Carolina, Sam traces his roots back to Accra, Ghana where he was born and lived his early childhood. Since hopping off the plane (and getting used to being cold!), he has been the nagging older brother to his four siblings and somewhere along the way learned to have fun. When he's not in the STC Hardware Office or studying at 17 Hillhouse, you can find him at Payne Whitney working on perfecting his squat form or being ridiculously loud in the Saybrook dining hall. As a research assistant with the Clark Lab, a part time finance bro, and a startup intern, Sam is no stranger to being way out of his comfort zone, especially in his computer science classes (he is, curiously, a CS major). Some say he even managed the basketball team in his freshman year. While he claims he likes to read, his free time is more likely spent watching his favorite shows on Netflix or calling his friends and family back home.
Donasia Gray (they/she)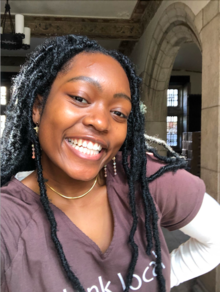 Donasia is a '22+1 born and raised right here in New Haven, aka the Greatest Small City in America–#GSCIA. Donasia is an African American studies major concentrating in liberation pedagogies and in the Education studies program. During their year off, they bleated each morning with the goats while farming in Vieques, Puerto Rico, did DEI work at a high school, and fell in love with New Orleans' parks. As a proud FGLI student, Donasia has held a number of jobs on campus, but currently works as a Saybrook College Aide, a Tour Guide, a Recruitment Coordinator for the Admissions Office, and as an intern to the Dixwell Community Q House Board through the Dwight Hall Urban Fellows program. She is thrilled to also be an incoming Saybrook FroCo this fall! Fun fact, Donasia's first-year roommate (and bestie to this day) said they literally cheered the Saybrook chant in their sleep one night. Outside of student jobs, Donasia is a member of New Haven's Urban Agriculture Community Advisory Board and on the women's rugby football club team, ~the fittest team on campus ~. Their favorite place on campus (besides Saybrook of course) is the Yale Farm, and Cultural Connections, the Yale Undergraduate Prison Project, and Steppin' Out will forever hold a special place in their heart. In her free time, you can find Donasia roller-skating, playing Pac-Man, frequenting New Haven's coffee shops, and spending time in the sunshine with friends. <3
Sophia Lee (she/her)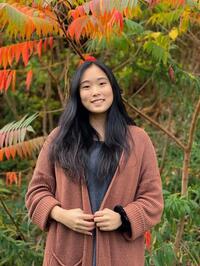 Born in the bustling city of Seoul, South Korea, but raised in the laidback suburbs of Birmingham, Alabama, Sophia knows how to hustle and bustle when it's go-time and how to lay back and just be a potato when the couch calls. Always hoping to better understand others and her own roots in Korea, Sophia is double majoring in Psychology and East Asian Studies with certificates in Education Studies and Advanced Japanese. She also works in a psych lab studying implicit biases and is always working to maintain her proficiency in Chinese, Japanese, and Korean by diligently watching C/Kdramas and Japanese anime. Outside of academics, she sings in Yale's premiere Christian acapella group, Living Water, played in the Yale Symphony Orchestra, and is executive director of Yale Daily News' Podcast, Attune. She also practices her faith with her friends in Yale Students for Christ and can be found at weekly bible studies, worship jams, and quiet reflection in dining halls, courtyards, and Bass Café. In addition to now being a FroCo, Sophia has held multiple student jobs, some of her favorites being a Peer Liaison for the Asian American Cultural Center, Teaching Fellow for the Japanese Department, and a language tutor for the Center of Language Study. Sophia is notorious for always being somewhere in Bass and also always looking for company, so come up and say hi when you see her!