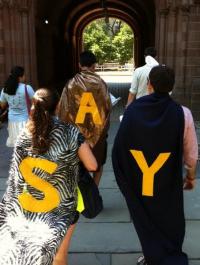 The First Year Counselors, or FroCos, all of them Saybrook seniors, play a special role in the college. Together with the Dean, they counsel and advise first-year students, living near them on campus and providing them with academic and personal counseling during the first year. In addition to bringing an important peer perspective to their roles, the FroCos receive special training in helping students adapt to college life.
Saybrook 2023-2024 FroCos
Head FroCo - Mariela Barrales (she/her)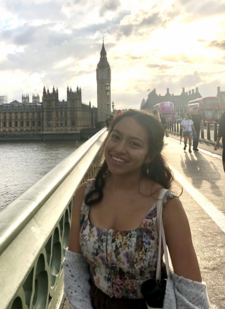 Mariela (she/her), SY '24, hails from sunny East Los Angeles, where she calls the small neighborhood of City Terrace home. She absolutely loves LA and will represent it proudly. At Yale, she studies
Political Science
and
Spanish
and occasionally dabbles in
Data Science
courses. For fun, she loves to dance with
Ballet Folklórico Mexicano de Yale
(BF) and recently served as Co-President on their executive board. She loves her BF fam unconditionally and can't wait to dance with them this year. She's also a Community Response Fellow through
Dwight Hall at Yale
where she interns with The Perfect Blend, a community nonprofit in New Haven, CT. She loves Saybrook with her whole heart (say what?!), as is notable by that fact she never misses an
SCC
meeting. In Saybrook, she served as a Saybrook Activities Committee (SAC) Co-Chair in the past, and currently works in the Saybrook College Office as a student aide. She spends way too much time in her favorite study spot, the Saybrook Basement. You'll definitely run into her there at some point. In her downtime, she loves running, working out, and relaxing with her lovely friends. She is incredibly excited to serve as Head FroCo this year and can't wait to meet you all. :)
Adérónkẹ́ Adéjàre (they/she)
Adérónkẹ́ is so excited to be a Saybrook FroCo!!!  Adérónkẹ́ (they/she) is a Mantua, New Jersey native settling for Connecticut beaches.  They are majoring in Computing and the Arts with a concentration in Theater, Dance, and Performance Studies (try saying that three times fast).  They frequently are involved in theater productions and will be directing their senior thesis this year.  Before becoming a FroCo, Rónkẹ́ enjoyed helping first-years as a Student Accessibility Services Peer Liaison and supporting disabled students of all years as a Disability Peer Mentor.   Rónkẹ́ has been active in many communities as a board member of Kappa Kappa Gamma Sorority (KKG), Disability Empowerment for Yale (DEFY), Yale Nigerian Student Association (YNSA), and Yale Model African Union (YMAU), but now she likes to attend events these groups host.  Rónkẹ́ spent her summers taking classes and researching how robots can help people with the Yale Social Robotics Lab.  You can catch Rónkẹ́ all around The Brook™️ studying, eating dinner, or at SCC and BlackBrook events. Outside of school, Rónkẹ́ enjoys shuffling through Afrobeats, alternative music, and podcasts, taking naps, and discussing all the latest drama on reality TV shows. 
Corey Dunn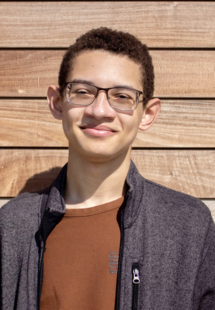 Corey Dunn is an East Asian Studies major in Saybrook College. He is studying the regions and languages of Japan and Korea. At Yale, a diverse breadth of interest begot him a diverse journey, from Computing in the Arts, to the Poetry Writing Concentration within the English major. His passions lie in reading, writing, film, art, language, and video games. Some creative projects include a publication of his artwork (a burning) in the Forbes & Fifth magazine, a 3D rendering of his organs and its upload to a social space in Virtual Reality, and numerous poems and creative work/writing, which often reference his target languages. He was involved in the Blended Reality VR/XR group at the CCAM, the game development club Amoriem Labs, the YDN podcast desk, and has worked as a library assistant at the Yale Sterling Library. More recently, he actively participates in events under the Japanese and Korean Language departments. On Spotify, he has 6500+ songs under his liked songs playlist, and he listens to them while he plays video games, going for late-night walks, or spending time with friends.
Maya Kyriakides (they/she)
Maya, called mak by many, is an Ethics, Politics, and Economics major born in Seattle but raised in Connecticut just 15 minutes away from Yale! They are most interested in all things international, but anywhere in the world they love to read, run, knit, cook, watch sports (Go Hawks, MU, and Roll Tide), and most anything that takes place outdoors! At Yale, Maya is on the board for Yale Model Congress, participated in YCC through the Undergraduate Organizations Funding Committee, is a sibling of a sorority, a proud Hellenic Society member, and more. Maya spent her entire third year of studies abroad at Oxford University studying PPE, playing soccer (not football as their teammates might argue), travelling, and making wonderful friends both British and otherwise. They are very excited to return to Yale and all its wonderful people and traditions! While she occupies no one space on campus, the bike trail bright and early in the morning or Willoughby's at any point in time are good places to start!
Chloe Lee (she/her)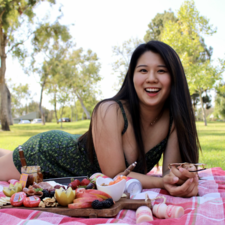 Chloe was born in Seoul, South Korea, and grew up in Orange County, CA since she was 10. At Yale, she's pursuing a major in Economics and a certificate in Statistics & Data Science. Due to the pandemic, she took a gap year between her sophomore and junior years, during which she lived alone(!) in New York City and Los Angeles. During this time, she worked at a NYC-based startup called Branch and then completed a Brand Management Co-Op at Johnson & Johnson. At Yale, she's interested in connecting with people of diverse backgrounds and helping others. She was a Peer Liaison working at the Asian American Cultural Center and is excited to continue mentoring first-year students as a Saybrook FroCo. Previously a three-time national medalist in synchronized swimming, Chloe loves most water sports and working out in general. She also enjoys cooking, consuming a lot of cat content, and enjoying sunny weather outside. She is thrilled to meet her first-years, so don't hesitate to reach out to her with ANY questions or concerns related to all things college/Yale!
Daniyal Mirza (he/him)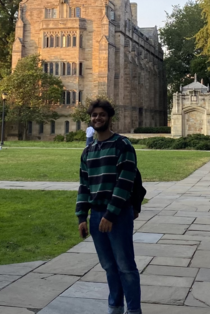 Though Daniyal was born in Karachi, Pakistan, he grew up in the beautiful city of Jeddah, Saudi Arabia, before immigrating at 16 to Indiana of all places. Like his background, Daniyal's interests are diverse –after much consideration, he settled on a double major in Biology and History to satisfy his love of both writing and science. At Yale, Daniyal works at the Chen Lab, volunteers at HAVEN Free Clinic, and serves as a board member of RISE, an organization seeking to provide free tutoring services to refugee and immigrant students in New Haven. In the past, he has served as a board member of the Yale Muslim Students Association, FOOT, and as a Matriculate Advising Fellow. Despite his commitments, both past and present, Daniyal makes loads of time for fun – he follows Cricket and Soccer obsessively (Pakistan; YNWA), carries his jank Kindle around everywhere, and is allegedly delusional about his FIFA ability. But more than anything else, Daniyal is passionate about community – and contributing to it. When he's not at West Campus doing research, wandering around campus, or grinding at Payne Whitney, you could probably find Daniyal messing around with friends in a common room somewhere.
​
Tramy Nguyen (she/her)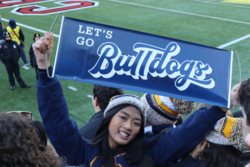 Tramy is from Baytown, TX (but she'll claim Houston if you ask her where she's from). Although she's always been studying Cognitive Science with certificates in Education Studies and Data Science, she's bounced around from pre-med to pre-law to pre-nothing because of her commitment issues. Seriously, don't ask her about her post-grad plans, it'll probably make her cry. At Yale, she works in the Fineberg Lab and is the research track lead for Dwight Hall's Community Mental Health Fellowship. She holds a deep love for her babies, Yale's Vietnamese Students Association and Negative Space: An Asian/ Asian American Oral History Project. She also deeply appreciates chasing the bag, having held multiple student jobs in the Good Life Center, the Asian American Cultural Center, the Poorvu Center for Teaching and Learning, the Dean's Office, the Alumni Association, the Admissions Office, and the libraries. Tramy is still searching for hobbies at her old age of 21, but things that have recently become a part of her personality include the electric scooter she bought in her junior year and the phone game Merge Mansion (she is not proud to admit that she spent money in the game during a moment of weakness). Saybrook has always been a part of her personality— she doesn't outwardly boast Saybrook pride unless someone dares to insult Saybrook.
Tony Potchernikov (he/him)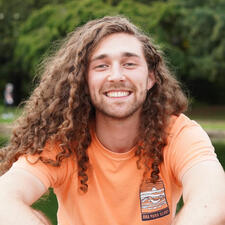 Tony is from Music City U.S.A majoring in Molecular Biophysics and Biochemistry. As and MB&B major, Tony spends a good deal of time in lab and has worked on a variety of projects during his time in the De La Cruz Lab and as a Hahn Scholar. Most of his research relates to biopolymer dynamics and enzymology. Some of his favorite projects relate to understanding how enzymes that regulate soft-tissue calcification work at the molecular level (hopefully to make them better therapeutics), working to characterize mRNA export, and understanding biopolymer severing. Outside of lab science, Tony enjoys photography, having taken several classes, and doing several projects using the Creative and Performing Arts (CPA) grants. He is also an Academic Strategies Peer Mentor at the Poorvue Center (make sure to check out all the vast resources they have to help you succeed in class!). During his year off he worked both in industry at a Pharma start-up in Memphis, and also worked in community organizing with Stand Up Nashville and WeDecideTN (feel free to ask about any of these campaigns!). You can usually find him in one of the Saybrook courtyards (when it's warm), or a good deal at the buttery and Saybrary—don't be a stranger and feel free to say hello!