The Kan'ichi Asakawa Garden
The Kan'ichi Asakawa Garden, located near the O ("Hadley") entryway in Killingworth Courtyard, was created in honor of Asakawa Kan'ichi (1873-1948). Asakawa emigrated from Japan to attend Dartmouth College, where he received his B.A. in 1899, and continued his education at Yale, where he attained his PhD. in History in 1902. He taught at Yale from 1907 to 1942, and also served as the Yale University Library's curator of the East Asian Collection. He would become the first Japanese professor at an American college or university in 1937, when he was promoted to full Professor of History. In addition to his service as a scholar and curator, Asakawa also performed public and personal diplomacy, attempting through speeches and correspondence to serve as a bridge of understanding between Japan and the United States in increasingly parlous times. The personal difficulty for him of this period can be gleaned from a December 8, 1941 letter from University President Charles Seymour to Asakawa:
"I can understand how painful these days must be for you and I write merely to tell you of my understanding and to assure you of my intense desire to do all that I can to make them a little easier. You can count upon the appreciative affection of your friends. All that lies in the power of the university will be done to keep your external life normal; anything that any one of us can do to ease the spiritual load you carry or shall want to do. Yale can never repay with any adequacy your service to her and to scholarship."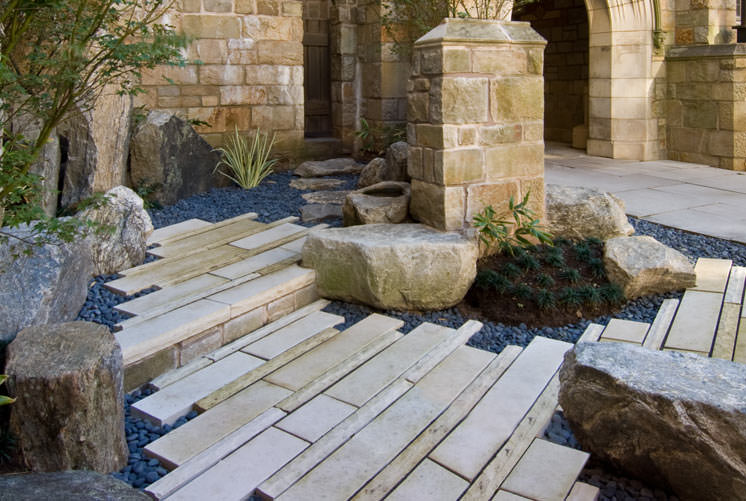 The Asakawa Garden planning committee was formed in 2006, in preparation for the centenary of Asakawa's admission to the Yale faculty. Saybrook College was chosen as the site for the garden in recognition of his term as a resident faculty fellow of Saybrook College in 1939-40. The garden was constructed on the site of what had formerly been called the "secret garden": a small patch of soil enclosed by stone walls and accessible by way of a narrow wooden gate up a small flight of stairs. The builders of the garden partially removed the exterior stone wall to provide for an open ground-level space. The space is set with a stone garden and a small, sculpted rain pool, and planted with Japanese maples and low growing woody bamboo. The chief designer Shin Abe said of the garden, "Our hope with this design is for people to sit quietly and enjoy the harmonic balance between Yale's architectural symmetry and the Japanese garden's asymmetry."
The garden was officially dedicated on October 12, 2007. Ryozo Kato, then Japan's Ambassador to the United States, spoke at the dedication, which also featured remarks by Linda Koch Lorimer, Vice President and University Secretary, and other dignitaries. Edward Kamens, the Sumitomo Professor of Japanese Studies, chaired the garden planning committee, which included faculty, staff and students. The garden was created through the generosity of Asakawa Kensho Kyokai (Asakawa Peace Association), Waseda University, Yale alumnus Charles Schmitz (1960 B.A., 1963 LL.B.) and many other donors. 
Detailed information about Asakawa Kan'ichi can be found on the Council of East Asian Studies website, here: https://ceas.yale.edu/asakawa-kanichi.
Information about the construction of the garden can be found on the website of the landscape architectural firm Zen Associates, here: https://zenassociates.com/yale-university-asakawa-garden/