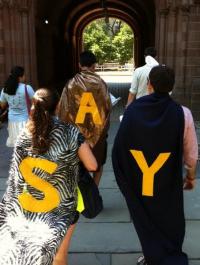 The Frosh Counselors, or FroCos, all of them Saybrook seniors, play a special role in the college. Together with the dean, they counsel and advise first-year students, living with them on the Old Campus and providing them with academic and personal counseling during the first year. In addition to bringing an important peer perspective to their roles, the FroCos receive special training in helping students adapt to college life.
Saybrook 2018-2019 FroCos

 

Greg Campbell

Greg is a Mechanical Engineering major from Granada Hills, CA pursuing the ABET accredited BS.  This past year, he served as president of the National Society of Black Engineers chapter at Yale and conducted research in the Urban Ecology and Design Lab.  When he is not studying, Greg is either relaxing with his friends or training with the Yale Varsity Track Team, which he will be captain of for the 18-19 season.  Greg is very excited to  welcome you all to the Saybrook family!

Arizona Greene

Arizona is a senior from the small town of Carrollton, Georgia studying Statistics and Data Science. Originally SY Class of 2018, she took the year after her sophomore year off to study Mandarin in China and work as a server at a restaurant in her hometown. Outside of the classroom, she's involved in Sabrosura—Yale's Latin Dance Team—and is a dj for WYBC Yale Radio. 

Brett Gu

I'm a Molecular Biophysics & Biochemistry major from Houston, TX, arguably the best city in the world but objectively better than Rochester, MN. In no particular order, I love all things Saybrook, Houston and New England sports teams, my family, and Tex-Mex. Outside of the classroom, I'm a volunteer at Yale New Haven Hospital and I do immunobiology research. You can almost always find me at the long table in the SY dining hall at 5 pm, at intramural games, in the SY College Office as an aide or at Saybrook College Council meetings. I can't wait to meet the Saybrook Class of 2022 and have guac at duty nights!

David Jiang

David is a Global Affairs and Political Science double major. He was born in the Gobi Desert, grew up in Japan, and currently lives in the wonderful city of Rochester, Minnesota (a city with a hospital objectively better and a community a lot nicer than that of Houston, TX). David is involved with the Saybrook College Council, Yale International Relations Association, and Dpops. David loves to talk about anything politics, and most recently served as a consultant on a mayoral campaign, a congressional campaign, and a gubernatorial campaign. He is excited to meet the incoming class of Saybrugians!

Yerick Reyes

Yerick

 is a Global Affairs major with a concentration in International Security. He was born in Miami, specifically Kendall, and currently lives in Kissimmee, Florida (he went to the same high school as fellow FroCo Priya). Yerick is involved with La Unidad Latina, Sabrosura and Yale International Relations Association. He is always willing to have a good conversation about soccer and foreign affairs, both being at the center of his study abroad in London. Yerick is excited to welcome the incoming class of 2022 Saybrugians to what is objectively the best residential college at Yale!

Jake Roy

Jake is a Molecular, Cellular, and Developmental Biology major from Enfield, CT. Jake will be doing a 5th year MPH in Biostatistics at the School of Public Health and then hopefully medical school. Besides science-related activities, Jake is a Saybrook IM Secretary is focused on a repeat of our Tyng victory last year. He is happy to talk about anything from working in a lab and general science topics to movies and video games and is very excited to meet the class of 2022. He also believes that Connecticut is better than either Texas or Minnesota, but no argument is needed to prove that. 

Priya Singh

Priya is a Biomedical Engineering major from Far Rockaway, New York pursing her MS/BS. Although she was born and raised in New York, she went to high school in Florida. Identifying as a  FGLI (first-generation, low-income) student, Priya is super involved in QuestBridge, 1vyG and Matriculate. Outside of the classroom, some of her adventures include spending a summer abroad in Spain, going on two cross country road trips, researching in several labs, and taking full advantage of the CEID. Priya is looking forward to welcoming the newest class of Saybrugians to the best residential college (and eating all the snacks during her late night duties)!

Adam Watson

Adam is a Chemical Engineering Major from Columbia MD, pursuing the ABET accredited BS degree.  Adam is super involved in the Afro-American Cultural center, and identifies as a FGLI (first-generation, low-income) student. Outside of the classroom he is involved with Yale Steppin' Out – Yale's one and only Step Team, he has worked in several Labs around the country, and this year he will be serving as the President of the Black Solidarity Conference. Adam can't wait to meet the newest class of Saybrugians, and introduce them to the wonderful place he now calls home!